This div is a simple layer
We are the WA supplier of the all Australian made luxury Hilltop caravans!
CUSTOM GRAMPIAN LUXURY 22
Your adventure
starts now!
A revolution in luxury
style and comfort.
A revolution in luxury
style and comfort.
Off-Road & Off-Grid!
Luxury
Western Australia's exclusive distributor of:

We specialise in supplying custom built luxury caravans for touring, semi-off road use and off-grid adventure.
Perth Quality Caravans take pride in the strength, security and quality of every caravan we sell. All our caravans are manufactured in Australia using high quality materials and undergo rigorous quality assurance examination throughout manufacture to ensure they meet our stringent requirements.

All caravans are manufactured to customer order ensuring you receive the latest designs and technology.

Perth Quality Caravans is the exclusive distributor of Hilltop Caravans in Western Australia.

Use our contact form or drop us a direct email or phone call:
E: salesmanager@perthqualitycaravans.com.au
P: +61 8 9220 4468
Why Choose Us?
Beautiful Design
All internal and external materials used in our builds are of the highest quality, meticulously sourced throughout our complete range of vehilces! These beautiful aesthetics result in breath-taking caravans!
Awesome Features
Our smart solutions provided via customer feedback and created by the engineers at Hilltop have made the operations of your caravan effortless and innovative!


Australian Made!
We are the sole WA distributors for Hilltop Caravans which are proudly manufactured in Australia ensuring you get the highest quality components, parts, materials and assembly!
Even More Reasons!
AUSTRALIAN PRODUCTS!
We are the sole WA distributors for Hilltop Caravans which are proudly manufactured in Australia, ensuring you get the highest quality components, parts, materials and assembly.
Hilltop Caravans are built on FP Chassis. FP Chassis has been operating for over 15 years and like Hilltop is also a fully family owned business. Hilltop and FP Chassis work very closely together to make further engineering modifications to improve the safety and quality of the Hilltop caravans.



EXTENSIVE RANGE
We offer an extensive range of different caravan models to cater for all different customer requirements. Our caravans are built to the highest Australian standards ensuring they are compatible with the various conditions and terrains in Australia.

 

 
CUSTOMER SERVICE
We pride ourselves on our customer service and after sales service.We offer a friendly informative place for you to find the caravan that fits your individual needs. We believe in making sure that you are comfortable with the purchase of your new caravan and are fully informed about everything relating to the use of your new caravan. No matter if you are a beginner or an expert, you will find a suitable caravan with us.

 

 
VALUE FOR MONEY
Our caravans offer excellent value for money when you add up all the features provided in the purchase price.

 

 
COMMITMENT TO QUALITY
Our quality control measures ensure our customers receive only the best.
Hilltop Caravans Pty Ltd is fully accredited by RVMAP, the Caravan Industry Association and Australian Made.

 

 
HOME AWAY FROM HOME
Our caravans boast ample living space and clever storage allowing you to move freely. Enjoy the convenience of a full kitchen, shower, toilet, and spacious dining. Keep comfortable with air-conditioning, modern furniture and bedding.

 

 
CUSTOMISED CARAVANS
Each of our models has a list of optional extras that improve the already impressive range of features which come standard with each caravan. Choose from several different floor plans that tailor the caravan to your specific requirements.

 

 
LEADING TECHNOLOGY
Our smart solutions have made the operations of your caravan effortless.
Perth Quality Caravans
The adventure starts HERE!
ACCREDITATION & CERTIFICATION
WHAT THEY SAYTESTIMONIALSOUR GREAT CLIENTS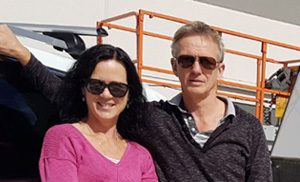 Ian & Windy
The service has been above & beyond expectation. Always very friendly. Happy to help with anything.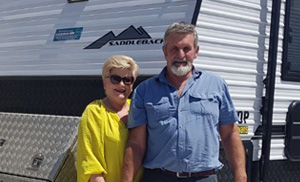 Kewin
Hilltop Caravans an 'A grade' product. The service and back up can only be summed up in one word as EXCELLENT.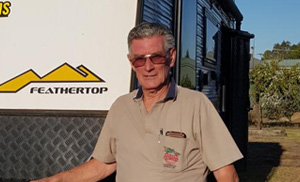 Stewart
I like it. It's light, it's great!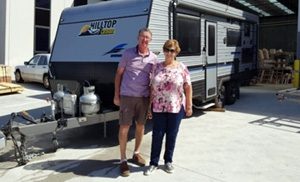 David & Kaye
We called back to Hilltop for an after sale service today. We just love our van but mostly the people & service nothing has been too much troubled for them the whole way through.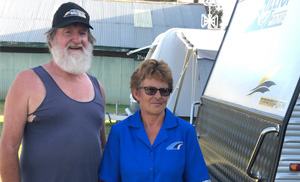 Rick & Karon
Beautiful van. Taws like a dream and brilliant service!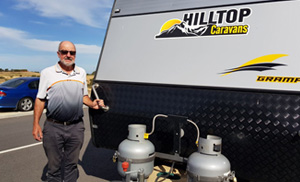 Daryl Pobjoy
Just took our Grampian to the Hilltop factory for a 12 month check up. The service from Dham & Dula was without question the best after sales service I have ever experienced. They checked over the whole van and after a few minor adjustments, plus installing a fan for us I was on my way home. This is just the best company to deal with.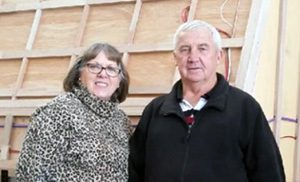 Jeanette & Bruiser
Must Tell You That When We Were On Our Way Home from Anglesea In January. We Passed Another Hilltop Caravan. Was Quite Exciting. I Hope They Are As Pleased As We Are With The Van.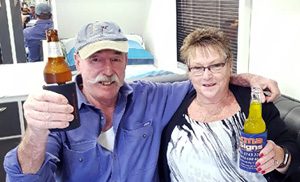 Fanton & Rosenne
Travelled To Darwin And Returned. Great Trip... Van Performs Terrific, Just Like A Luxury Hotel…Everything Works Great… Lovely People!
CONTACT USWe will get back to you ASAP!
PERTH QUALITY CARAVANS
16 IRWIN ST
PERTH WA
+61 8 9220 4468